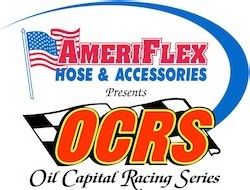 2015 Racing Season Comes To A Climax
Tri-State Speedway Drops Curtain Saturday
John Lemon
OCRS Public Relations
Tulsa Okla. (September 15, 2015)
– It seems like it was just last month that the 14th season for the Ameri-Flex Hose & Accessories / Oil Capital Racing Series had begun. But as it does so often in life, time slips away and we now find ourselves reaching the end of line on the 2015 sprint car tour as it all comes to a close this Saturday night.
Tri-State Speedway in Pocola Oklahoma will be the host track to bring the curtain down on another exciting season. It will be the second trip by the Ameri-Flex / OCRS series to the speedy 3/8-mile semi-banked oval as Sean McClelland sped to a win back in June. As with so many times before, Ameri-Flex Hose & Accessories is largely responsible for the size of the winners purse this weekend.
With Robert Sellers locking up the 2015 championship and Shane Sellers doing the same for the runner-up spot, there are some key positions still to be decided on. For starters, the battle for third wages on as Brodix Rookie of the Year candidate Brett Wilson has a small 38-point lead over Brent Bates for that spot.
While Bates is trying to wrestle Wilson's hold on the third position, Casey Wills is only 20-points back of Bates for his 4th spot with Cameron Hagin just lagging six points behind Wills. Continuing the domino effect, Whit Gastineau is only 20 markers behind Hagin with Zach Chappell a mere 14 points in back of Gastineau. In plain English, positions 3rd – 8th can turn on a dime this weekend.
Nutz' n' Boltz':
Gasman Running Full Throttle:
It took Whit Gastineau till July 25th to get his first Ameri-Flex / OCRS feature win of 2015. Since then, the Gasman has bagged 5 wins in the last 8 events including the two largest paydays on tour, the Harold Leep Classic and the Oklahoma State Championship presented by Dooling Machine Products.

Searching For Number 7
:
Robert Sellers has 6 wins this season with the last one coming the very night before Gastineau scored his first one on a doubleheader weekend. Sellers has this coming Saturday night at Tri-State Speedway to see if number seven is lucky.
The Tri-State Trifecta:
Alex DeCamp has indicated he will compete at Tri-State this weekend. Tri-State is where DeCamp earned his first career Ameri-Flex / OCRS victory. That came in 2013. He also visited Tri-State's victory lane in 2014 and is now looking to make it 3 years in a row at the eastern Oklahoma track for a victory lane trifecta.
Racing Tickets = Bargain Pricing:
​
There was a recent discussion among a couple of individuals about the cost of a ticket to attend the races today compared to years past. In that conversation, it was mentioned that 40 years ago (1975), you could get a grandstand ticket for only $5 at the local tracks. Most adult tickets for Ameri-Flex / OCRS events today cost $15. That's a $10 increase over 40 years, which is an increase of just 25 cents a year.
And those pit passes that some think are expensive……​
They were $10 in 1975 and they have only climbed to $30 after 4 decades.
Promoters would dance with exuberance if their overhead costs went up so slowly.
2015 Ameri-Flex / OCRS Awards Banquet:
Keep an eye on the OCRS website for date and location announcements for this years award banquet. Fans are as welcomed as the race teams themselves. Plan to be there to congratulate those who had a successful year and to hear a big announcement concerning the 2016 Ameri-Flex / OCRS racing season!
For those who need to know……….
What:
AmeriFlex / OCRS Sprint Cars
Where:
Tri-State Speedway / Pocola Oklahoma
When:
Saturday September 19, 2015
Time:
Main Gates open at 5pm / Hot laps at 7:00pm / Racing at 7:30pm ​(OCRS drivers meeting is at 6:30pm)
Tickets:
Grandstand $15 (13 yrs & up) / Seniors (65+) $13 / Kids (6-12 yrs) $8
Pit Passes are $35 (13 yrs & up) and $15 (6-12 yrs)
Track Phone:
(918) 436-5009
Website:
http://www.tri-statespeedway.com
About the Ameri-Flex Hose & Accessories / Oil Capital Racing Series -
Established in 2002, the Ameri-Flex / OCRS series sanctions dirt track sprint car racing in the southern region of the central plains with its headquarters in Tulsa OK. Events are typically held at racetracks in Oklahoma, Kansas, Missouri and Texas with an average of 22 race dates per season. Series champions include: Jamie Passmore (4), Sean McClelland (3), Mike Goodman (3), Harli White and Andrew Deal (1 each)
Website:
http://www.ocrsracing.com
Facebook:
http://www.facebook.com/oil.series
About AmeriFlex Hose & Accessories-
Located in Tulsa OK, AmeriFlex Hose & Accessories is a family owned and operated company. From food grade hose to hoses for the petroleum industry, AmeriFlex will strive to fill your needs. AmeriFlex can build a hose to your specifications or we will assist you in creating what you have designed while you wait. AmeriFlex has several hard to find items that some vendors can't get or find. Product can be shipped quickly and efficiently. If we do not have what you are looking for, we will direct you on where to find it. Give us a try, after all…………..
AmeriFlex Has The Stuff That Keeps You Going!
Website:
http://www.ameriflexhose.com