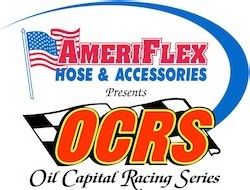 Dooling Machine Products Returns As Title Sponsor
For Ameri-Flex / OCRS Oklahoma State Championship Race
Over $10,000 To Win Possible in a 3 Week Stretch
John Lemon
OCRS Public Relations
Tulsa OK (Feb. 4, 2016)- Dooling Machine Products is returning as title sponsor of the annual Oklahoma State Championship race for the Ameri-Flex / OCRS sprint car series. This event will once again be held at its birthplace, the Oklahoma Sports Park in Ada Oklahoma. The winner of the 10th Annual running of the OSC race will collect $2,000 with additional money added into the overall purse as well. This special event will be held on Saturday, September 10th.
Dooling Machine Products is owned by Joe Dooling, a veteran car owner who has Bryan Clauson as his driver in various racing events. The duo won the 2014 Chili Bowl, the 2015 Belleville Midget Nationals, the 2015 Jason Leffler Memorial and the 2015 Oval Nationals just to name a few of their outstanding accomplishments. "Joe Dooling is a fantastic guy and a huge supporter of the sport," said Ameri-Flex / OCRS president Barry Grabel. "We are grateful to have Dooling Machine Products return as a sponsor for the Oklahoma State Championship race and we look forward to working with Joe for as long as he wishes to support our series."
Whit Gastineau is the defending champion of the OSC. The 'Gasman' is the only 3-time winner of the event after also collecting wins in 2010 & 2012. No other driver has more than one victory in the previous nine OSC events. The OSC race began in 2007 with Tulsa's Mike Goodman winning the inaugural event on his way to the 2007 championship, his third series title.
The OSC will be the third high profile event in a row for the race teams as the 'Harold Leep Classic' is just two weeks earlier (August 26) at the Outlaw Motor Speedway and the $5000 to win / 15-lap Ameri-Flex Challenge the week before (September 3) at the Caney Valley Speedway. In all, if a driver swept all three events, they could pocket over $10,000!
Oklahoma Sports Park is home to a 4/10-mile clay oval track and is located just 10 miles northwest of Ada, Oklahoma on state highway 3W.
Track Phone: 580-332-5535 / Promoters Phone: 580-332-5383
Website:
http://www.oklahomasportspark.com
About Ameri-Flex Hose & Accessories-
Located in Tulsa OK, Ameri-Flex Hose & Accessories is a family owned and operated company. From food grade hose to hoses for the petroleum industry, Ameri-Flex will strive to fill your needs. Ameri-Flex can build a hose to your specifications or we will assist you in creating what you have designed while you wait. Ameri-Flex has several hard to find items that some vendors can't get or find. Product can be shipped quickly and efficiently. If we do not have what you are looking for, we will direct you on where to find it. Give us a try, after all…………..
Ameri-Flex Has The Stuff That Keeps You Going!
Website:
http://www.ameriflexhose.com
About Dooling Machine Products:
Dooling Machine Products is a family owned business and has been for over 70 years. DMP is headquartered in Hartford Illinois with a substation in Wynnewood, Oklahoma. DMP specializes in mobile shop repair services for multiple industries with large production equipment yet specializing in the oil and gas markets.
Checkout their website at
http://www.doolingmachine.com
http://www.ocrsracing.com