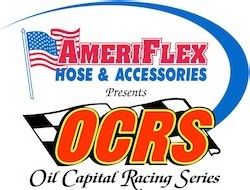 Ameri-Flex / OCRS Season Preview
"Rising To The Occasion"
John Lemon
OCRS Public Relations
Tulsa OK (March 11, 2016) - Anticipation of thrilling action is once again in the air as another Ameri-Flex Hose & Accessories / Oil Capital Racing Series sprint car season is about to begin. 2016 will bring some fresh ideas into the fold while still retaining some of the traditional programs and events that make the seasoned dirt track warriors a popular series to witness in the deep southern plains. The Ameri-Flex / OCRS series is scheduled to payout the highest amount of prize money during a single season in series history, which will be aided by the $5000 to win Ameri-Flex Challenge in September (more on that in a moment). Hoosier Tire Southwest will return once again as the major point fund contributor for the fourth year in a row with a traditional sum that enters the five digit zone.
Defending champion Robert Sellers of Mustang OK will look to become the first driver to repeat a championship drive since Jamie Passmore accomplished the feat in 2009 - 2010. Passmore's run also included a title in 2008 for a rare three-peat performance. Mr. Sellers will have the likes of Whit 'Gasman' Gastineau (Moore OK) and Zach Chappell (Talala OK) as a couple of drivers that will also be strong favorites to earn the right to collect the coveted Harold Leep Championship Trophy. Shane Sellers would be a sure threat as well, but military duties will see the Tuttle OK driver AWOL for a few shows early in the season. Look for Shane to improve on his two wins from last year even with some absence to his attendance card.
Popular series favorites including Johnny Kent, Cameron Hagin, Shayla Waddell, Casey Wills, Perry Pickard, Michael Bookout and Joseph Miller just to name a few, look to compete within the series once again. Also, look for veteran drivers such as Joe Wood Jr, Alex Sewell, Mike Goodman, Danny Smith, Kyle Clark, Sheldon Barksdale, Sean McClelland, Brian McClelland, Jonathan Beason and several other pilots to make a handful of appearances throughout the schedule this season.
23 tour stops are set for 2016 with the season opener taking place at the 3/8-mile Brill Motor Speedway in Meeker Oklahoma on Saturday March 19th. Profile events such as the 10th Annual Oklahoma State Championship at Oklahoma Sports Park in Ada will again grace the schedule. As with last season, Dooling Machine Products will raise their flag as the title sponsor of the OSC event with $2000 going to the winner. Mark your calendars for September 10th on this jewel.
OSP will also be the destination for the 8th Annual Harold Leep Jr Memorial race. This years event will have injected cash into the purse making it the highest paying HLJM event over the previous seven editions. Gary Owens of Pauls Valley OK will be seeking his fourth HLJM event in a row. Amazing.
The Harold Leep Classic returns to the Outlaw Motor Speedway on Friday August 26th for the second running of this special event to honor one of the all time greats to ever strap into a race car. OMS will also present an all 'Open Wheel Friday Night' program that will feature Ameri-Flex / OCRS sprints plus Powri West midgets and IMCA modifieds. This special program takes place on April 15th.
The race everyone will circle on their calendar in 2016 will be the highest paying race in series history, the "Ameri-Flex Challenge". This unique event will be held September 3rd at the Caney Valley Speedway in Caney Kansas. The Ameri-Flex Challenge will be limited to a 14-car field that will only be a mere 15 laps in length. The event winner will pocket $5000 with additional awards to the remaining 13 starters.
12 teams must qualify throughout the racing season to earn a lock-in spot into the Ameri-Flex Challenge with the title sponsor selecting two additional entrants. Once a field is set, all 14 teams will draw for their starting positions. There will be a complete Ameri-Flex / OCRS program on the same night thus making for an extra exciting program of sprint car action. This is an event that will have the attention of the entire open wheel sector.
To view the complete 2016 Ameri-Flex / OCRS schedule, just visit the OCRS website at:
http://www.ocrsracing.com
There are a collective group of highly respected associate sponsors on board for the Ameri-Flex Challenge with additional sponsors still to join. The current official list of associate sponsors for the Ameri-Flex Challenge include:
Brodix Cylinder Heads
Dyno Services of Oklahoma
Maxim Racing
Rod End Supply
Schoenfeld Headers
Smiley's Racing Products
Speaking of sponsor support, the roving mass of racers will once again reap the seasonal rewards of a fantastic group of sponsors that are the very heartbeat of the series. The current 2016 sponsor list is:
Ameri-Flex Hose & Accessories (A Feature and Title Sponsor)
Hoosier Tire Southwest (Series Point Fund Sponsor)
D&E Supply (Hard Luck Award)
Dyno Services of Oklahoma (Product Sponsor)
Action Auto Collision (Hard Charger Award)
Dooling Machine Products (Event Sponsor)
Drive Shaft Inc. (Heat Race Sponsor)
A1 Machine (Heat Race Sponsor)
Car & Fleet (Heat Race Sponsor)
Wesmar Engines (B Feature Sponsor)
Brodix Cylinder Heads (Rookie of the Year Sponsor)
M&W Aluminum Products (Contingency Sponsor)
Maxwell Oil (Contingency and Advertising Sponsor)
Schoenfeld Headers (Product Sponsor)
Rod End Supply (Contingency Sponsor)
Finshline Restaurant (Advertising Sponsor)
Hitch It Trailers (Avertising Sponsor)
Amsoil (Product Sponsor)
Sprintdudes.com (Product Sponsor)
Bob Hurley Ford (Pace Truck Sponsor)
2016 will be a fantastic season for the Ameri-Flex / OCRS sprint car series and it all begins on Saturday March 19th at the Brill Motor Speedway. Come join us and witness some the best open wheel racing you will see all season.
The Ameri-Flex / OCRS Sprint Car Series: Where you can FEEL the Thunder!
About the Ameri-Flex / OCRS Series -

Established in 2002, the Tulsa OK based Ameri-Flex / OCRS series sanctions dirt track sprint car racing in the southern region of the central plains. Fan appeal, quality race teams combined with our solid core of supporting sponsors are the nucleus of the series. Thrilling competition providing the ultimate quality family entertainment is the essence of what the Ameri-Flex / OCRS series is all about.
Website:
http://www.ocrsracing.com
Facebook:http://www.facebook.com/oil.series
About Ameri-Flex Hose & Accessories -

Located in Tulsa OK, Ameri-Flex Hose & Accessories is a family owned and operated company. From food grade hose to hoses for the petroleum industry, Ameri-Flex will strive to fill your needs. Ameri-Flex can build a hose to your specifications or we will assist you in creating what you have designed while you wait. Ameri-Flex has several hard to find items that some vendors can't get or find. Product can be shipped quickly and efficiently. If we do not have what you are looking for, we will direct you on where to find it. Give us a try, after all…………..
Ameri-Flex Has The Stuff That Keeps You Going!

Website:
http://www.ameriflexhose.com