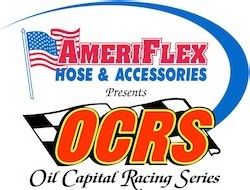 Ameri-Flex / OCRS Sprinters Ready To Launch
Brill Motor Speedway Begins Countdown

John Lemon
OCRS Public Relations
Tulsa OK (March 15, 2016) – After a winter season that had as much bite in the area as a toothless puppy on a torsion bar, the time has come to sink some teeth into something of actual substance: The 2016 Ameri-Flex / OCRS Sprint Car season.
Brill Motor Speedway will host the season opener this Saturday night as the winged 360 sprinters hit the racetrack for the first time since September 19th of last season. In translation, that will be 182 days since discharged heat flowed through a set of Schoenfeld Headers. To long by several accounts.
Saturday night will also be the first step in teams qualifying for the very unique 'Ameri-Flex Challenge", a $5,000 to win 15-lap affair to be held in September at the Caney Valley Speedway. Checkout the OCRS website for additional details on the Ameri-Flex Challenge event.
In all, 23 races are on the early docket for the season and Brill Motor Speedway is currently scheduled to hold the season finale as well, that will take place on September 17th. Robert Sellers took in $1500 in the only tour stop at BMS last year. Teams will be once again be competing for a top prize of $1500 this Saturday.
It's been a long wait for everyone and Saturday night closes the curtain on Facebook pre-race car shows and story telling around the fireplaces and puts the real deal onto the track until leaves switch back to multi-color status.
It's about dang time people…………… Let's do this thing!
What: Ameri-Flex / OCRS Sprint Car Races
When: Saturday March 19, 2016
Where: Brill Motor Speedway / Meeker Oklahoma
Time: Main Gates open 4:30pm / Hot Laps 7:00pm / Racing starts at 7:30pm (OCRS drivers meeting at 6:00pm)
Tickets: Ages 16 & up: $15 / Ages 12-15 and Seniors: $12 / Kids 6-11; $5 / Pit pass:$30
Track information call: (405) 769-6927
Track website:
http://www.brillsmotorspeedway.com
Track directions:
From the Turner Turnpike (I-44): Exit at Chandler, 10 miles south of highway 66 on state highway 18
From I-40:Exit 186, North 16 miles on state highway 18
Track Address for GPS users: 343250 E. 1000 Road Meeker, OK 74855
About the Ameri-Flex / OCRS Series -
Established in 2002, the Tulsa Oklahoma based Ameri-Flex / OCRS series sanctions sprint car racing in the southern region of the central plains. Fan appeal and quality race teams combined with our solid core of supporting sponsors are the nucleus of the series. Thrilling competition providing the ultimate quality family entertainment is the essence of what the Ameri-Flex / OCRS series is all about.
Website:
http://www.ocrsracing.com
Facebook:
http://www.facebook.com/oil.series
About Ameri-Flex Hose & Accessories -
Located in Tulsa OK, Ameri-Flex Hose & Accessories is a family owned and operated company. From food grade hose to hoses for the petroleum industry, Ameri-Flex will strive to fill your needs. Ameri-Flex can build a hose to your specifications or we will assist you in creating what you have designed while you wait. Ameri-Flex has several hard to find items that some vendors can't get or find. Product can be shipped quickly and efficiently. If we do not have what you are looking for, we will direct you on where to find it. Give us a try, after all…………..
Ameri-Flex Has The Stuff That Keeps You Going!
Website:
http://www.ameriflexhose.com
Pictured:
2015 Ameri-Flex / OCRS champion Robert Sellers
Photo by: Kent Bergman
http://www.ocrsracing.com