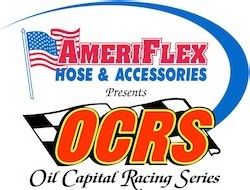 Schoenfeld Headers Joins Growing List Of
Ameri-Flex Challenge Sponsors
John Lemon
OCRS Public Relations
Tulsa OK (March 30, 2016) - The Ameri-Flex / OCRS sprint car series is honored to announce that Schoenfeld Headers from Van Buren Arkansas has pledged their support for the special running of the Ameri-Flex Challenge race to be held on September 3rd at the Caney Valley Speedway.
Schoenfeld Headers has been a major staple for the racing industry since 1974. Schoenfeld Headers are found on most race cars in the nation today regardless of the level of car classification and Schoenfeld Headers are by far the largest manufacturer of circle track headers today.
In addition to exhaust headers, Schoenfeld Headers also offers: header gaskets, turn downs and extensions just to name a few items that can be obtained from the manufacturer. From sprint cars to midgets and late models, regardless if its dirt or asphalt, Schoenfeld Headers is the place to go. Schoenfeld Headers has state of the art CNC bending and welding equipment, as well as a state of the art chassis dyno facility to make sure your item is the right item for the task at hand. For your header and/or exhaust needs, contact Schoenfeld Headers at:
Schoenfeld Headers
605 S. 40th
Van Buren, AR. 72956
PH. 479-474-7529
FAX 479-474-2249
Website:
http://www.schoenfeldheaders.com
Let them know the Ameri-Flex / OCRS sprint cars series sent you!
Thank you Schoenfeld Headers for supporting the Ameri-Flex Challenge!
About the Ameri-Flex Challenge -
The Ameri-Flex Challenge is a special dash style race that will feature 14 cars for 15 laps. The winner of the Ameri-Flex Challenge will earn $5,000! Ameri-Flex Hose and Accessories is the title sponsor of the event. The race will take place at the Caney Valley Speedway in Caney Kansas on September 3. 2016.
About the Ameri-Flex / OCRS Series -
Established in 2002, the Tulsa OK based Ameri-Flex / OCRS series sanctions dirt track sprint car racing in the southern region of the central plains. Fan appeal, quality race teams combined with our solid core of supporting sponsors are the nucleus of the series. Thrilling competition providing the ultimate quality family entertainment is the essence of what the Ameri-Flex / OCRS series is all about.
Website:
http://www.ocrsracing.com
Facebook:
http://www.facebook.com/oil.series
About Ameri-Flex Hose & Accessories-
Located in Tulsa OK, Ameri-Flex Hose & Accessories is a family owned and operated company. From food grade hose to hoses for the petroleum industry, Ameri-Flex will strive to fill your needs. Ameri-Flex can build a hose to your specifications or we will assist you in creating what you have designed while you wait. Ameri-Flex has several hard to find items that some vendors can't get or find. Product can be shipped quickly and efficiently. If we do not have what you are looking for, we will direct you on where to find it. Give us a try, after all…………..
Ameri-Flex Has The Stuff That Keeps You Going!
Website:
http://www.ameriflexhose.com