SOUTHERN OKLAHOMA SPEEDWAY IS ON GUARD
SPRINT CARS READY TO BE UNLEASHED

$3,000 TO WIN ON THE TABLE !!!

John Lemon
OCRS Public Relations
Tulsa Oklahoma (August 13, 2012)
– Finishing off the third and final week of a summer break, the open wheel warriors of the Oil Capital Racing Series are chomping at the bit to saddle up into their mega horse-powered sprinters and get back to waging battle on some of the finest ovals the region has to offer in continuance of the chase for the "Goodyear Tire & Rubber / OCRS Championship".
This Saturday night, OCRS returns to John & Nicky Webb's Southern Oklahoma Speedway where current point leader Jammin' Jamie Passmore of Rose Oklahoma will look to further solidify his stronghold on obtaining his fourth OCRS championship. If successful in earning title number four, Passmore will become the all-time leader in OCRS championships with four. Sean McClelland, last years champion and Mike Goodman hold three titles apiece as does Mr. Passmore. Passmore took the checkers for what was then his sixth OCRS main event triumph back in June. He currently has conquered 10 of the 14 events conducted on the 2012 season and has won the last five straight tour stops.
The Oil Medics "Back Row Challenge" bonus is now doubled to $2,000 from its original $1,000 pot. Should the "Pole Dash" victor take the challenge and win the programs main event from the back row (20th position), with the original purse factored in, the total winning take would be $3,000!! In the event the challenge is declined by the dash winner, the outside front row starter may elect to go tail back as well for a take of $2,000. Who might take the challenge? Who might win this week? Let's take a peek at a few of the possibilities:
Danny "Caretaker" Smith has a main event win (Mid-America Speedway) and sits second in points to Passmore and looms large to put a halt to Passmore's winning streak. Smith, a Sapulpa Oklahoma pilot, has come close to collecting additional wins and he would be one of the favorites to make Passmore take a seat.
Whit "Gasman" Gastineau of Moore, Oklahoma holds two tickets to victory lane and each of those are out of the state of Oklahoma. He scored at Caney Valley Speedway in Kansas and then at Monett Speedway in Missouri. The Gasman holds 14 total OCRS wins dating back to 2010 and he scored a win in the first ever OCRS trip to Southern Oklahoma Speedway in July of 2011.
Shayla "Princess" Waddell is the third member of the 12 year old series that has a winner's trophy on her mantle from 2012. The charming racer from Oklahoma City became the first woman to earn a feature win at the Salina Highbanks in May. Waddell is a favorite role model for many younger fans.
The 2012 BRODIX / PM-PRO rookie of the year leading contender is Alex Sewell of Broken Arrow. Sewell was a sound runner-up to Passmore at SOS in the first trip to town and Bristow's Tim Kent had one of his better performances with a podium finish that same night. Either of these drivers are capable of improving on those numbers. The ever improving Fred Mattox of Drumright, Pauls Valley resident Gary Owens and Stillwell's Rafe Essary are but just a few others expected to compete Saturday night.

3-Wide Salute @ Southern Oklahoma Speedway / Mike Spivey Photo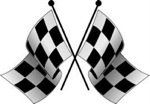 PIT NOTES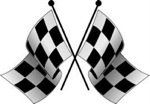 Spreading The Wealth:
While Passmore has been hogging the feature wins, the initial year of providing cash awards for the "AmeriFlex Hose and Accessories" Hard Charger has been claimed by 12 different drivers over the 14 events contested. The mover uppers have been:
Jeremy Allen, Kyle Clark, Kyle Cobb, Whit Gastineau, Mike Goodman, Johnny Kent (twice), Tim Kent, Sean McClelland, Alex Sewell, Danny Smith (twice), Kenneth Walker and Casey Wills.
Cranking Heat
: Passmore has found his way to a series leading 9 heat race victories thus far. Other 8-lap heroes have been:
4 wins: Tim Kent & Alex Sewell
3 wins: Whit Gastineau, Fred Mattox, Danny Smith and Shayla Waddell
2 wins: Kyle Clark, Frank Dittman, Layne Himebaugh, Johnny Kent, Mike Peters and Matt Sherrell
1 win: Brian Bishop, Beau Gastineau, Glen Passmore and Casey Wills
Pole Vaulters:
OCRS teams will openly tell you making the 'Pole Dash' race is critical to having your best shot at winning an OCRS feature. Barring taking the Back Row Challenge, the dash winners earn the right to start on the pole position. These recipients to date have been:
5 wins: Jamie Passmore
4 wins: Whit Gastineau
2 wins: Danny Smith
1 win: Tim Kent, Fred Mattox and Shayla Waddell
Open Invitations: Track promoters who had single dates with OCRS in 2012 have invited OCRS to return after having successful shows the first time OCRS preformed on their soil. Those tracks are Brill Motor Speedway in Meeker Oklahoma and Tri-State Speedway in Pocola, Oklahoma.
After an April 27th date, BMS re-booked OCRS for July 13th and after that show was also a success, BMS added a third date for October 6th.Tri-State hosted OCRS on June 16th. After their successful endeavor, Tri-State re-booked OCRS for September 8th.
OCRS Top Ten:
(1) Jamie Passmore #4j: 1238
(2) Danny Smith #5$: 1064
(3) Fred Mattox #26m: 989
(4) Whit Gastineau #2w: 985
(5) Tim Kent #79: 928
(6) Alex Sewell #8: 897
(7) Casey Wills: #31: 887
(8) Shayla Waddell #88s: 838
(9) Johnny Kent #55: 831
(10) Kyle Clark #9$: 745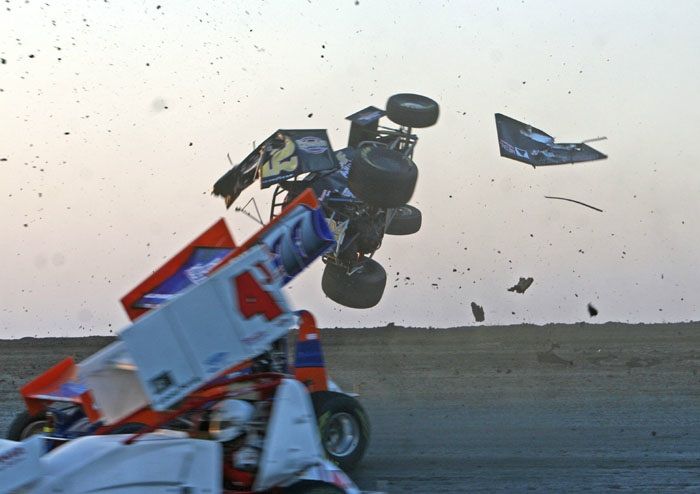 Beau Gastineau Takes Flight In OCRS Competition / Mike Howard Photo
The forecast at press time is for the temps to be in the low 80's. This will be an excellent opportunity for race fans to come on out and enjoy some refreshing cooler air and be entertained by the absolute best champ sprint car drivers in the region.
What:
Oil Capital Racing Series sprint cars
When:
Saturday night August 18, 2012 @ 7:30pm (Hot Laps @ 7pm)
Where:
Southern Oklahoma Speedway / Ardmore, Oklahoma
Track website is:
http://www.southernoklahomaspeedway.com
Phone: 405 816-4314
Directions from Interstate 35:
Take exit 29 and proceed east approximately ½ mile to Hwy 77
Turn south onto Hwy 77. Track is approx. 2 miles on right.
The Oil Capital Racing Series is supported by several associate sponsors that contribute to the well being of the OCRS series. Please support these sponsors that contribute to the very sport you have come to enjoy and let them know you appreciate their participation in sprint car racing.
These sponsors include:
Goodyear Tire & Rubber
AmeriFlex Hose & Accessories
The Oil Medics
M&W Aluminum
Bob Hurley Auto Family
Drive Shafts Inc.
Car & Fleet Parts
Lightning Wings
Grand Prix Auto Center
Wesmar Racing Engines
Keizer Aluminum Wheels
Brodix Cylinder Heads
PM-PRO
Schoenfeld Headers
Same Day Auto Repair
Carter / Maxwell Auto Service
Additional information on the OCRS series can be viewed at:
http://www.ocrsracing.com
Get ready southern Oklahoma, as OCRS will rock the place this Saturday night!

CAN YOU HEAR THE THUNDER?